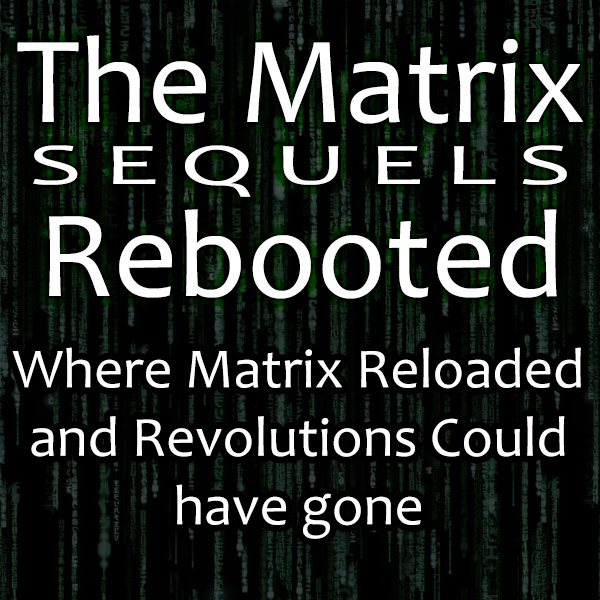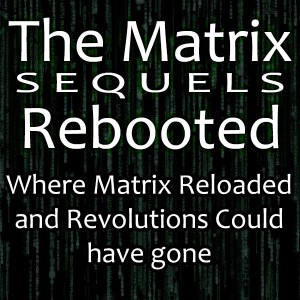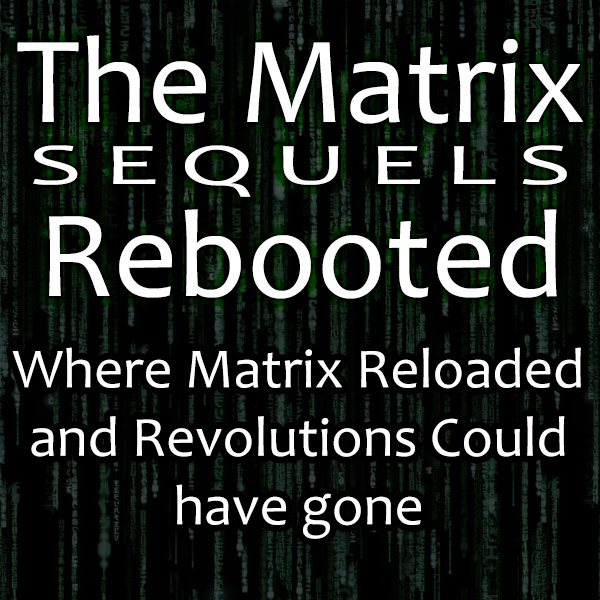 Personally, looking back after eight years, and going through all of the old stories on the website as I've been re-posting things to the blog that I'd lost when the server crashed, it got me thinking again.  I've decided to start what could be a series of blogs featuring ideas for reboot versions of the sequels.  Some will be way more fleshed out ideas than others, but this is merely for my own, and hopefully some of your, enjoyment.  This entry started out as a thread in the forum.
Now, I did find an article I had written about why the Matrix Revolutions ended the way that it did.
It sounded very logical, and in fact, if the Machines had continued their route of Zion, all of it would have been destroyed. (Likely save for the number of survivors needed to rebuild the city.)
I think, if I was re-making the film, I'd start by re-configuring The Matrix Reloaded. I'd wipe out the pointless rave and sex scenes entirely. They have no bearing on the overall story, and mean nothing.  Say what you will about them being representative of something that the machines can never understand, they don't move the story forward at all, and that is wasted screen time. I'd use that extra time to begin providing some answers to open questions. Neo would be freeing people from the Matrix by the thousands. Zion, in the hundreds of years since the Matrix was built, will have an infrastructure that is capable of housing all of the people that are being freed. That would be one of the twists in the middle of the film, with the revelation that Zion's infrastructure is actually quite substantial. I would also take part of that time to end the film with a cliffhanger that lands like a firework. Something that makes people talk, not something like "Agent Smith is on the table next to Neo, OMG." Neo would have the same powers in the real world that he does inside the Matrix. In fact, not just the same powers, but also the ability to EMP blast Machines.
I'd then start Matrix Revolutions with Neo, now empowered, entering the Matrix to free whomever he can, while avoiding the hundreds of thousands of Agent Smiths that roam the world.  At this point, Neo has a technique that allows minds to be freed from the Matrix in a way that doesn't require signal disruption from a red pill.  The free minds are quickly found and recovered by tracking the bots that are unhooking the bodies from the Matrix.  The hovercrafts that are going around collecting the newly free people will quickly plug them into a chair where the operator uploads programs to their mind.  This sequence will be a callback to when Neo was learning martial arts, operations and all of that in the first film.  This time, instead of a montage of one person learning all sorts of martial arts, it'll be all sorts of people being trained with a coping program.  This program allows these people to very quickly understand what has happened, and have the ability to deal with it.  There could be other programs that we see on the screen, such as "life in Zion," "farming," "necessary skills," etc.
This elevates Neo into the hero we all wish he'd been, as he rushes to free as many minds as he can.  At the same time, there are teams from various hovercrafts doing what they can to help Neo on foot.  These are strike teams that are acting with extreme precision, moving in and out of the shadows, avoiding Agent Smith copies as much as possible.  They're attempting to free more minds, and get out via the next available hardline with tactical precision.  At this time, the Matrix is becoming unstable, parts of the Matrix are now beginning to glitch, and hardlines are becoming unreliable.  Some team members don't make it as a direct result.
At the same time, inside the Matrix, Agent Smith is continuing his push to take over as many minds as possible, copying himself as much as he can.  As Agent Smith takes over a new mind, the Matrix begins to respond by unplugging those people. It's brutal and diabolical.
As the Machines are unplugging people, less power is getting into their systems, and they begin to fail more and more, and entire sections of the Matrix start shutting down. Agent Smith is causing the Matrix to collapse on itself in his mad rush to replicate. Neo can still destroy Smith in the same way as he did at the end of the first film, and continues to do so. Each time, however, begins to take a toll on him and makes the other surviving Agent Smiths stronger.
Finally, Neo realizes that he's out of time. There aren't anymore lives to free from the Matrix, and he needs a way out. There's one hardline remaining that works, and he has to get past all of the remaining Agent Smiths to get there.  The Matrix is unplugging the Smiths as quickly as it can.  Agent Smiths are everywhere, and he needs to sneak around and avoid being seen. This sequence would have Smiths nearly see him and suddenly vanish as they are unplugged.  This leads to one final battle with Agent Smith to get there. They fly throughout the Mega city, battling in the rain, and Neo finally gets to the hardline and exits the Matrix.
At this point, Smith shouts, "this is my world! My WORLD!" as he does in the film, and the Matrix blinks off.
It's going to start a very long reboot sequence.
This was all part of the plan. Neo is now flying toward the Machine City of Zero One. In doing so, his speed causes a break in the polluted sky for the first time in hundreds of years. When he arrives, the Machines are ready for him, but he is too strong, too fast, too powerful for them. He manages to shut down the defense systems long enough for Zion's fleet of hovercrafts to launch a full assault against the machine city.  Some approach from above, others rise from below, full batteries firing.
Finally, Neo is able to get to the prime machine, the Deus ex Machina, as we saw in the film. Only this time, the deal is different, and the Machine leader uses machine logic so that it will survive alone, but that is what Neo needed to infect it with a virus. The very same one that he had sold at the beginning of the first Matrix film. (So that's what it was!)
In the end, humanity is free, and natural life starts to rebuild without artificial intelligence to fight back or enslave us.
Personally, I think a victory for our heroes is far better than a truce between humans and machines. That was much more of a cop-out, like Abraham Lincoln saying: Let's have peace, if you want to have slaves, that's fine as long as you free a slave if they discover that they are enslaved.