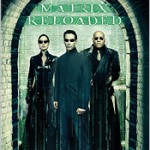 A Matrix Fan wrote to me a few days ago via Twitter, about his Matrix Reloaded fan edit.  Here's what he wrote:
For the past year I've been working on a "fan edit" The Matrix Reloaded and Revolutions. I initially called the project "The Matrix Remixed". I recently finished a cut of the Reloaded "fan edit" which I call RELOADED_REMIXED.
http://www.youtube.com/user/RaySquirrel#grid/user/058A09104057A4D7
I am not the first one to make a fan edit of Reloaded and Revolutions. Though what distinguishes mine apart from others (this is what I assume from reviews and summaries I have not seen any other fan edits) is that mine are made out of admiration for the original films. I have sent cuts of RELOADED_REMIXED on DVDs to Joel Silver and Andy Wachowski, suggesting that they could extend the life of the franchise. The same way a music artist would release an album of songs remixed by other artists, filmmakers could release cuts of their films reinterpreted by other filmmakers. It would not be the first time. Just look at films like Fritz Lang's Metropolis, Blade Runner, Touch of Evil, Mr. Arkadin a.k.a. Confidential Report (which is a film WITHOUT a definitive final cut).
Thank you.