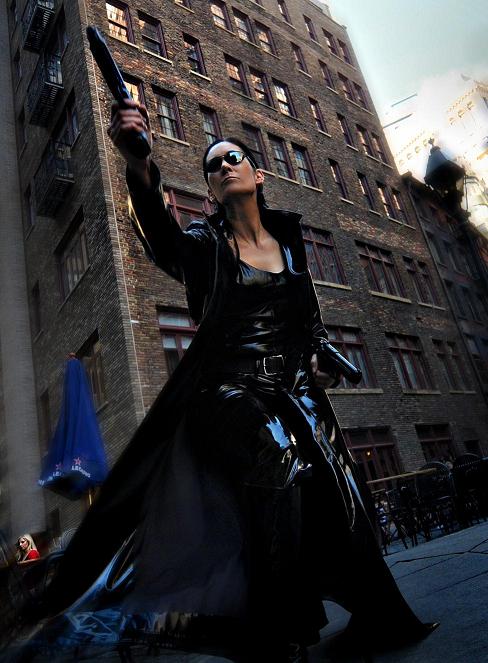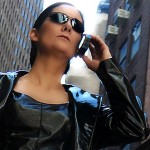 Here we have part one of an interview series with Trinity impersonator Deborah Smith Ford!  The interview was conducted by Endo Morgan, especially for MatrixFans.net!  All of the photography for this story was done by Israel David Groveman.  Without further adieu, here's part one of the interview.
You're an author, writer, actor, model and impersonator, you must be exhausted, how do you manage to balance everything?
Balance? Ha ha Well if I don't think about it I'm fine.  Kind of like maybe a tightrope walker looking straight ahead getting to his or her goal, and when there, relaxes a bit and then prepares for the next walk… Truthfully, though, a lot of what I do IS relaxation – maybe a tired kind, but if you like what you do what else is better?
What drew you to the Matrix (aside from your startling similarity to Trinity)?
At the time, I knew nothing of the MATRIX.  When the 2nd film was being promoted I was told by close relatives that I looked like this gal in black in "some" film. I ignored them.
Then in stores, at the mall, on the street… I was asked for my autograph and to pose for photos.  After three months I finally looked up the film, even thought Trinity was a bad character, (being dressed in black), decided I may give it a try – after all, I was already an actress so I'd treat it as another part – I didn't care if she was a bad character or not (of course she isn't).
Soon after, with not very professional clothes – my boots were men's from Sears! Now most of my clothes are specifically made for me, designed from the film – by Sara Lassalle of Lassalle Designs.
AND in the very beginning of being "her," wearing my black Sears' boots, I entered, as Trinity, in an international lookalike competition in Ft. Erie, Canada – having never been on a stage before (once, when five and got stage fright), had never used a microphone – nor had heard the music played to my made-up-last-minute "skit" – I won!  Not the grand prize, but I won something, and the crowd roared after my performance.
It was then and there that I decided I might be able to do something with it/the look.  Soon after that experience, I learned about lookalike conventions – Sunburst in Orlando, The Reel Awards and the CIC (Celebrity Impersonators Convention)in Vegas, as well as a variety of sci-fi conventions, and the rest is history.
One more thing, my mother, my very own mother, saw Trinity on TV when the films were being advertised for the theatres and later going to DVD.  Well, she called me one day and asked:  "Debbie, why haven't you told me that you got such a great job in those, you know, those films?" I told her it wasn't me.  My family told her it wasn't me.  Several months went by, and I guess she finally believed us.  She just told someone the other day she had thought it was really me.
So when one's mother thinks you are someone else, it must be so?!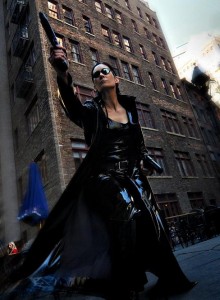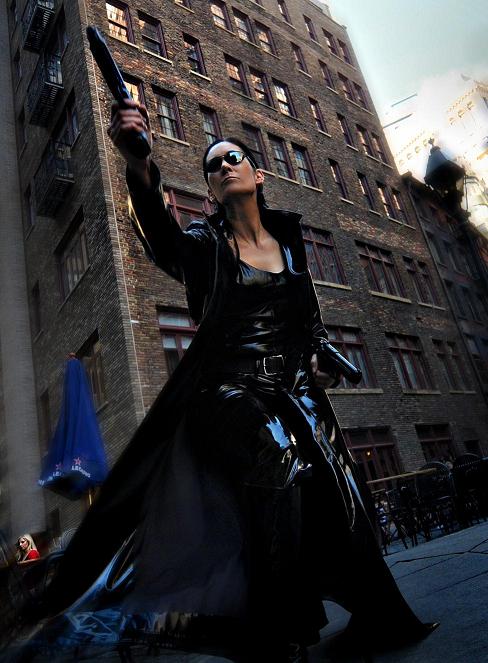 How active do you have to be to fully embody Trinity?
For just posing for photos with people not so much.  I'm often asked to "climb walls" or jump in mid-air – to avoid breaking my body for such stunts, I just say either that my stunt double isn't here, or Neo does that for me.  When asked where is Neo, I say he's home eating a TV dinner.
For performing on stage, that is another matter.  I do a lot of stretching before hand, and every move is planned out.  I have some martial arts training from waaaay back, and I use some of those moves, very simple ones.  The main thing is "her" mannerism, attitude, body language and saying just the right thing.  After a while one figures out what the true MATRIX fans like.  If someone does not know the film(s), then of course they do not understand.  But even then, understood or not, she's to look cool no matter what, and I like to think I pull it off!
Which Matrix film is your favorite and why?
I'd say the 2nd one (minus some of the multiple gyrations of the "dancers" in Zion) .  Because by then, the storyline is established.  If the viewer/fan has gotten that far, then everything else is downhill.  Of course I could not like the 2nd one without the first one – so maybe a combination of both!
Do you think there should be another edition to this cult saga and if you were offered the role of Trinity in say, another dimension, would you take it?
Oh my gosh, THIS is my favorite question so far. I have been saying ALL along that there should be more to the saga.  Hello, look at Star Wars with its prequel  (is that what it's called?).  They go back instead of forward.
I could be Trinity's older sister or even her mother – that would work! (I am an actress as well, hello.)
YES, I have made it clear to all my agents, and I keep reminding them, that if anything like that in a casting pops up, I am to be notified!
A few Matrix fans believe that not all of the questions were answered, as someone who has travelled into the Matrix do you agree?
Okay, this is NOT good to share.  I thought I fully understood the film/idea/premise… but after listening to true fans (remember, I was never even a fan of sci-fi, I had to learn),well, I'm still learning!  Do you forgive me?  My answer to if all of the questions were answered: "No."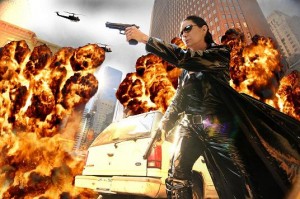 Has the character of Trinity gotten more or less popular over the years?
I think so, MORE popular, HEY, we're having this interview, aren't we?  Then again, too, I'm prejudice.  Shucks, if another saga happens, then we are flying high again (literally).  Can't the fans do something about it?!! "Petition," YouTube or Twitter for it?????
Carrie-Anne Moss was one tough as hell heroine as Trinity to Keanu Reeves hero in Neo, is it hard to almost have to rearticulate an established character?
Have never thought of it that way.  Hey, if I have such an uncanny resemblance to her (with sunglasses on), then I must come off as that tough heroine-type as well.  Like I say, SHE (Trinity or Carrie-Anne) also looks like ME, right?  It goes both ways.
So, no, it's not hard.  Except for the fact that anything she/Trinity does is from a script that the fans have learned to love (usually by heart), therefore whatever I do as her has to be identical – not my own idea nor from another script, so to speak, a mirror double.
In that perspective, it can be difficult sometimes.  BUT unlike an Elvis or a Paris Hilton – lookalikes to them have to be extra careful, as those two celebs are not characters (like Trinity) they were or are REAL people.
Is it difficult saving the world whilst wearing shiny black pants?
When the weather and "objects" around me are "safe," then everything is okay in the real world.  I have to avoid hairspray, sharp objects, rattan chairs, HOT climate and the use of the bathroom – well, you get the idea.  The saving the world part is easy – it's the other stuff that can be a problem!
You also impersonate "Kate" from "Charlie's Angels", are you drawn to play strong ass-kicking self-sufficient women?
another ha ha, you're good, actually my very first "look" was that of Audrey Hepburn.  I was not in the biz then, just looked like her (not beautiful like her), just had the build, hair, a slightly squared jaw, a little dance training/poise – and people asked if I was related to her.  Then Kate Jackson was the next one.
I do prefer the action, self-sufficient kind though.
Learn more at her websites: www.debsford.com and www.matrixlookalike.com and look for part 2 soon!