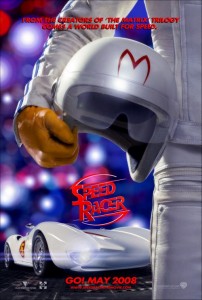 Release: May 23, 2008.
Filming Pseudonym: Shaolin Cowboy
Film Title: Speed Racer
Production Company: Warner Bros. Pictures
Shooting Locations: Germany
Written and directed by the Wachowski Brothers.
News bytes: Joel Silver: It's the story of Speed Racer, but in a way that you've never seen anything like that before in your life. The Wachowskis brought a tremendous sense of wonder and magic to that story. They just had a different way of seeing the story, in the way they do on everything they do. And we're going to shoot all of that in Germany.
Plot Summary: Based on the classic 1960s series created by anime pioneer Tatsuo Yoshida that later was retooled for North American audiences, the big-screen film will follow the adventures of the young race car driver Speed in his quest for glory in his thundering gadget-laden vehicle, Mach 5. The movie will feature other characters from the show, including Speed's family and his mysterious archrival, Racer X.
Here's what has been disclosed so far about Warner Bros.' big-screen adaptation of the cartoon classic Speed Racer. The film will reteam Matrix writer-directors Larry and Andy Wachowski with producer Joel Silver. Vince Vaughn is also involved in a producing capacity and is expected to play the role of Racer X, Speed Racer's big brother.
The Wachowskis are working on the screenplay, but what is their intention for the live-action film? Sources close to the project have advised IGN Movies that the brothers are aiming for a "G" rating. Yes, a kid-friendly "G" rating, which would be a first for the filmmakers behind Bound and The Matrix.
This is in keeping with what Silver recently told Empire Magazine. "They said they'd never work again [after] the Matrix sequels," Silver said. "At the end of the first couple of days the studio was able to forecast what (V for Vendetta) would make domestically, which was $70 million+. That was great. The movie didn't cost very much, so everyone was very happy. The next weekend Ice Age 2 opened with $70 million and the boys thought that was very interesting…They wanted to make a big family entertainment."