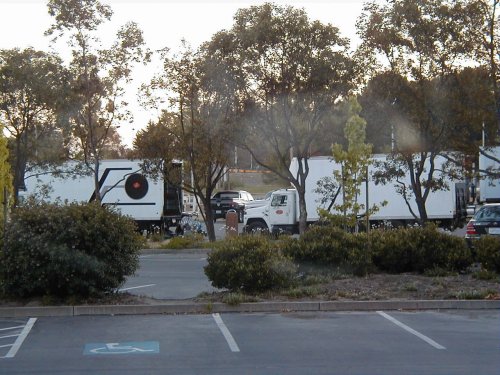 Corona Coming Attractions brings another big scoop. Pics from the set. These are simple pics, not really giving anything away about the films themselves. Take a look!
Our advance warning about last night's Matrix Reloaded filming seems to have paid off: we had one scooper hit the Posey Tunnel area and take five snaps of the crew trucks and vehicles. While there are no stars in the shots, it's still interesting to see the Cadillac EXT trucks and Metropolitan police cars lined up and waiting their close-ups.
The following shots were taken at approximately 8:45 P.M. last night on the Alameda side of the Posey tunnel crossing. Security guards asked our intrepid photographer to move along after snapping his shots. Click on any of the following to see it in a larger size.
One interesting fact that the photographer's buddy pointed out to him: why do all the police vehciles have the same number — "42 009" — stencilled on their sides? Perhaps there's just supposed to be one cop car in this scene??
[
With a name like 'Fnord Moo', you've got to be one of the best.
]