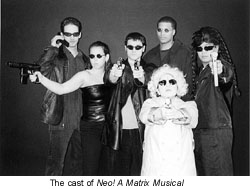 If you happen to be in the Chicago area this weekend and you're in the mood for a few laughs, you might want to stop by the Live Bait Theater on North Clark and check out NEO: A MATRIX MUSICAL. The Chicago Sun Times lists the show as "somewhat recommended", so it can't be all that bad.
The performance features choreographed segments supported by the soundtrack from THE MATRIX, various disco songs and some selections from WEST SIDE STORY and THE LITTLE MERMAID. One of the highlights is a ballet interpretation of the scene where Trinity escapes from the agents, performed to the tune of TONIGHT from WEST SIDE STORY. Other segments include, Neo singing "The Whoa Song" and an appearance by the Oracle as the disco queen. Plus, there's an interesting turn of events in which Switch is brought back, except now she's interested in Trinity.
The Matrix took home all of the Special Effects and Sound Oscars at the recent Academy Awards. Duplicating those effects on stage seems impossible, but the cast of Neo! A Matrix Musical manages some clever alternate ways to suspend actors above the ground, among other tricks. The 60-minute show is more of a homage than a spoof, but the pokes at movie star Keanu Reeves are the best ("Whoa"). The fights are top notch, and the songs and dance numbers pop in when you'd expect the big action sequences. A fun and energetic show, Neo! is a good first effort from Bulldog 17. –Fred Mowery Adapted by Fred"erick" Garcia. All songs written by Fred"erick" Garcia. Music arranged by Janina Gavankar. Fight & Dance Choreography by Joel Maisonet & Fred"erick" Garcia. Cast: Gregory Lance Williams, Paul Vitulli, Tracy Tanguay, Ryan C. LaFleur, Marisa Paonessa, Alphie Jimenez, Micah Smyth, and Janine Bobko (replacing Tracy Tanguay).