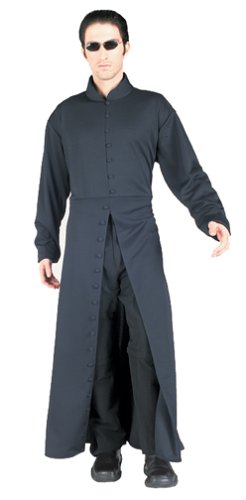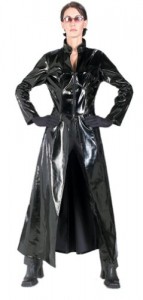 TrinityInfinity found this article in Better Homes and Gardens about Halloween Costumes, and The Matrix was on the list. I just couldn't resist posting this incredibly awkward story, but with people looking for Matrix clothes and costumes, here's the story:
"Matrix" characters like Neo and Trinity
3. Fans of the movie The Matrix and its sequel Matrix: Reloaded — which hit theaters in May — will be flocking to their local costume stores to snap up character costumes including Neo, Trinity, Morpheus, and the Twins. The easiest costumes for do-it-yourselfers: Black-clad Neo for guys and Trinity for gals. Turn yourself into hero Neo with a long-sleeved black robe, black shoes, and black sunglasses. Channel Trinity with a long, black coat or robe (leather or a leather-looking material is best), black boots, black gloves, and a sexy pair of black shades. With this chic look, you'll be ready to save the world!
Order Neo Costume – Order Trinity Costume
Source: Better Homes and Gardens