That's right folks, you talked, and they were listening. This November, Burlyman Entertainment is publishing The Matrix Comics Volume 2! And who knows what will end up in the set. You can voice what you'd like to have in this collection here at MFN in our Comics forum. They're taking our suggestions into serious consideration.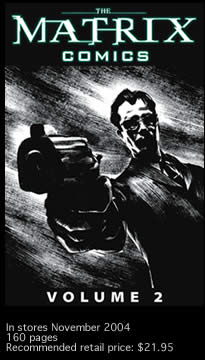 Prepare for another classic set of comics, and maybe some new ones coming up.
Being a Matrix fan has had it's ups and downs as far as critics and Hollywood is concerned, but as far as WE are concerned, it flat out rocks. The Wachowski Brothers have been awesome to the fans, not only giving us the Animatrix, but a whole new world to talk about and are really the creators of this community. For if not for their vision, we would not have this site.