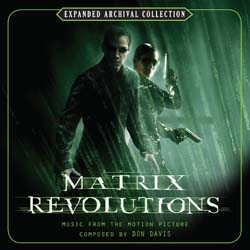 In an email to subscribers La La Land Records announced that at 12pm PST and 3pm EST they will be releasing The Matrix Revolutions: Limited Edition soundtrack which will be available for $29.98. This is a 2 CD set and features unreleased tracks from the film as well as unused material that has never been released before. And much like with the release of the The Matrix Reloaded: Limited Edition soundtrack the first few orders will be signed by composer Don Davis at no extra charge. There will only be 3000 of these produced so be sure to grab it while you can.
The track list for this release is as follow: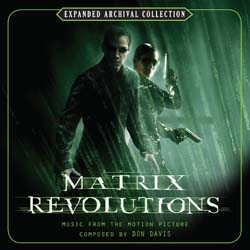 DISC 1
1. Logos/Main Title 1:24
2. Nothing But Blue Pills*/AK, Cold and Mauser*/Our Lit Ovens* 2:24
3. Oracle Debacle* 1:38
4. Rama-Kandra/The Trainman Cometh [Juno Reactor and Don Davis] 2:42
5. The Trainman Goeth* 1:50
6. Tetsujin [Juno Reactor and Don Davis] 3:23
7. The Road to Hell*/Time's Up*/The Road to Sourceville 5:46
8. He Is You* 1:36
9. The First Goodbye*/The All-Knowing Oracle* 5:32
10. The Logos Location*/It's Crazy Zee** 5:08
11. Das Banegold*/The Bane Revelation 8:08
12. The Smith Within Us* 6:05
13. Men in Metal 2:22
14. Niobe's Run/The Breach*/Boom Hilda* 6:52
15. Die Brünett Walküre*/Mjolnir Mastication*/Charra Broiled* 4:46
16. Woman Can Drive/Moribund Mifune 6:33
TOTAL DISC TIME: 66:22
DISC 2
1. Kidfried/To Our Snivel* 6:19
2. Neovision* 3:20
3. Saw Bitch Workhorse 4:00
4. Trinity Definitely 4:17
5. Deus Ex Machina* 5:06
6. Neodämmerung 6:00
7. Why, Mr. Anderson?/Spirit of the Universe** 7:11
8. Bridge of Immortality/For Neo 4:59
9. Navras [Juno Reactor and Don Davis] 9:08
BONUS TRACKS
10. The Trainman Cometh (original version)* 2:43
11. Die Brünett Walküre (alternate)* 2:13
12. For Neo (extended ending)* 3:04
13. In My Head [perf. Pale 3] 3:48
TOTAL DISC TIME: 62:27
TOTAL ALBUM TIME: 128:49
*previously unreleased
**contains material not used in film
To celebrate this release you will be able to order The Matrix Reloaded: Limited Edition soundtrack for a discounted price of $24.98.