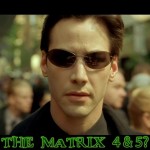 We just got an e-mail from MatrixFans.net member Dave, with a very intriguing and exciting story.  If this comes to pass, we'll follow every detail.  If it's turns out to be a false rumor, then we should know in a matter of days, if not hours.
Keanu Reeves was keynote speaker at the London School of Performing Arts, and mentioned a number of projects.  Bill and Ted 3 was one that he mentioned being very committed to, and I hope that it comes to pass.  I love the other two, and recently watched the animated series (Keanu Reeves, Alex Winter and George Carlin all supplied voices for their characters for the first season of the show).
This is where we get to the potential sequels to The Matrix:
Keanu revealed that he met with the Wachowski's for lunch during the Christmas season, and they mentioned they had finished a two picture script treatment that would bring him back to The Matrix where he would reprise his role as Neo.
They told him they had met with James Cameron to discuss the pro's and con's of shooting in 3D, with the hopes of delivering something that has never been seen before, once again revolutionizing cinema as we know it.  My head spins at the thought of one hundred 3D cameras lined up, shooting a Bullet Time sequence.  That thought alone makes me salivate at the thought of it.  But there is more.
Keanu went on to say that he still has an obligation to the fans to deliver a movie worthy of the title "The Matrix." He swears this time that the treatment will truly revolutionize the action genre like the first movie.
While it would be terrific, at least to me, to see this move forward soon, the Wachowski's are working on a number of things, including a film called Cloud Atlas, which they will finish before meeting with Keanu again to further discuss the potential future of the Matrix.
In related Wachowski news, they recently sold a script to Warner Brothers for a film called Hood, which is a futuristic version of Robin Hood, that may star Will Smith.  Curiously, Will Smith was the original actor they wanted for the role of Neo.
Personally, if anyone is going to do sequels, it may as well be the Wachowski's.  I read a comment recently where someone compared The Matrix Trilogy to Dante's Divine Comedy Trilogy.  In both cases, the majority of people prefer or recommend only the first part, with the sequels being panned, forgotten or skipped.  I loved both of the sequels, with reservations: they aren't perfect.
I think that the Wachowski's have it in them to capture the hearts of many again.  If they can find the happy medium between philosophy and action, and put together a fantastic story, they could have something incredible.
What do you think about the possibility of The Matrix 4 and 5?  Where do you think the story could go from here?  How do you think Neo returns?  What would you like to see in the next films in the series?  If the Matrix 4 and 5 do come to pass, should they take the events of The Matrix Online into account?
-via Screenrant and AICN
Update: This rumor was debunked.

Tags: Bill and Ted, Bill and Ted 3, Keanu Reeves, The Matrix 4, The Matrix 5, Wachowski Brothers